Appliances (clean and fully functioning)
washers
dryers
cook tops
freezers
microwaves
refrigerators
ranges
air conditioners
Thin, flat-screen computer monitors and televisions are accepted (see exclusions to the right ►)
  Building Supplies
  Cabinets
  Furniture
sofas
arm chairs
recliners
tables and chairs
small desks or roll top desks
beds and bed frames (see exclusions to the right ►)
  Household Goods
 pots and pans
wall decor 
knickknacks
We are unable to fix and repair items, and disposal fees cut into our profits to build homes. Therefore, there are some items we are unable to accept.
broken items
any products recalled by the Consumer Product Safety Commission

appliances over 15 years old (or before 2009 for dishwashers)

baby items (includes bedding, toys, stuffed animals, car seats, etc.)

bedding items (waterbeds, metal bed springs, mattresses, box springs, electric beds, or hospital beds)

Other beds and bed frames are accepted.

blinds, curtain rods, and valances

countertops without cabinets

dome hair dryers

electric wheelchairs

firearms, ammunition, or fireworks

any food, canned goods, or alcoholic beverages

large desks, large entertainment centers

paint, toxic chemicals

pet food, pet bedding, litter boxes, etc.

pianos or organs

pool tables

room partitions, room dividers

single pane windows

television sets or computer monitors with a CRT (Tube) inside of them.

Thin flat-screen computer monitors and televisions are accepted

torn or broken furniture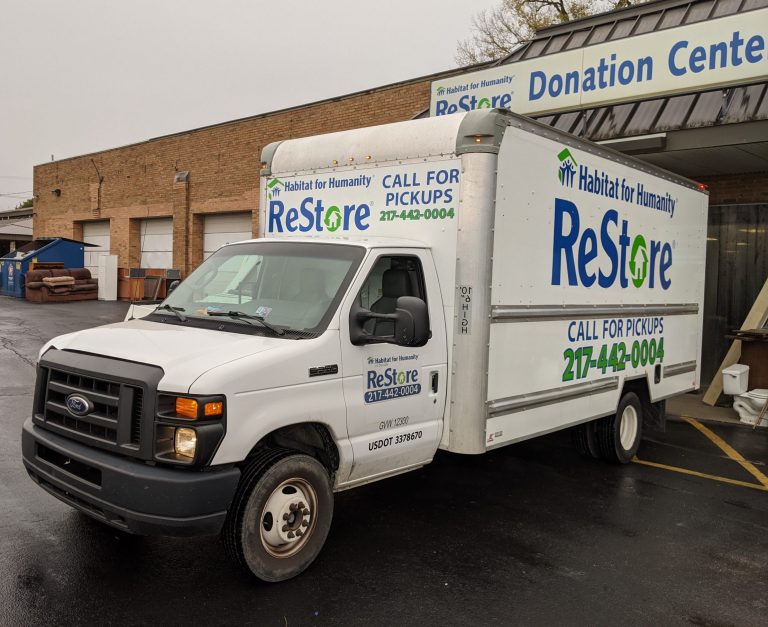 Choose the option that suits your needs.
NEW OPTION!
items picked up within 48 hours
pickup from multiple floors
will disassemble furniture
will accept items in ANY condition
Our pick-up fee reflects our operating costs and is much smaller than a typical moving company or junk hauler fee.
Donated items ARE tax deductible.
Pick-up fee is NOT tax deductible. 
free for larger items
gas donation is welcomed but not required
scheduling based on availability
ground floor disassembly only
items accepted based on condition
Donated items are tax deductible.